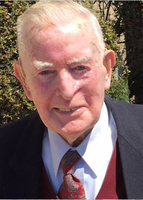 James Francis Conroy
JAMES FRANCIS CONROY, age 92, of Forest Hills, New York, and Boynton Beach, Florida, passed away peacefully on Saturday, January 13, 2018 surrounded by his loving family, in New York Presbyterian Hospital, Flushing, NY after a short illness.
He is survived by his loving wife, Brigid (née Power) and his three children, James F. Conroy, Jr., Maureen Conroy O'Connor (Keith) and Sean P. Conroy (Margot) as well as his three grandsons, Daniel O'Connor, Kyle O'Connor and Brian Conroy. His sister Kathleen (Coyle), age 93, along with many nieces and nephews, survives him in Birmingham, England, as he joins God, and his parents, John and Kate, his sisters Arlene and Tilly, and his brothers Desmond and Michael, in Heaven.
James Francis, known as "Frank" for much of his life, was born in 1925 in Claremorris, County Mayo, Ireland. He was the fourth of six children, and the oldest son, of John and Kate Conroy. He was well known in his hometown of Claremorris as an avid Irish football player and soon made a name for himself as goalie of the Mayo team.
In his twenties, he moved to Birmingham, England for five years before emigrating to the USA in January 1953. He settled in New York and continued to play Irish football, in Gaelic Park and the Polo Grounds, and was well known as a top goalie and was drafted for the New York Selected team. His nickname was Monty Conroy. He travelled to Ireland with this New York Selected team and played as goalkeeper before crowds in Croke Park in Dublin against the Irish teams.
Frank married Brigid Power in 1959, and together they built a life in Forest Hills and had three children, Jimmy, Maureen and Sean. In 1966, they bought a summer home in Preston Hollow in the Catskills Mountains, in upstate New York and many happy memories were made there. In later years, they spent their winters in Boynton Beach, Florida, in the Irish community of Sterling Village, where they enjoyed spending time with their very good friends, playing card games and attending Irish dinner dances. He was always ready with a quick joke, and loved to make people smile.
Frank was a quiet, gentle man, who was very interested in all things Irish. He was an avid reader all his life. He loved watching Notre Dame football games, as well as Western movies, and was a huge World War II buff. Most of all, he loved spending time with his family, and always had a twinkle in his eye and a wonderful sense of humor.
He will be sadly missed by all.
Until we meet again, may God hold you in the palm of His hand.
Those we love don't go away,
They walk beside us every day
Unseen, unheard, but always near,
Still loved, still missed, and very dear
In lieu of flowers donations may be made in James' name to either the American Heart Association or Saint Francis Heart Hospital by clicking on the DONATIONS tab on the left side of this page.
Visiting hours will be Wednesday, January 17 from 2pm-5pm/ 7pm-9pm at Fox Funeral Home, Inc., 98-07 Ascan Avenue, Forest Hills, NY.
A Mass of Christian burial will be held 10:00 am on Thursday, January 18 at Our Lady Of Mercy Church, 70-01 Kessel Street, Forest Hills, NY. Burial will be in St. John's Cemetery, Middle Village on Thursday, January 18