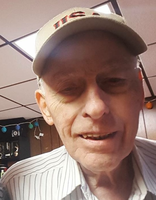 James Ferdinand Bond
James F. Bond was born on January 29, 1937 at Boulevard Hospital in Astoria, Queens to parents William Bond and Ethel Hegel Bond.
From 1955 to 1963 he was with the 69th Regiment of the New York National Guard.
In 1965 he became a New York City Transit Police Officer. He was sworn to protect and serve the public in the subway system. During his twenty years of service with the department he always worked the night shift and he was assigned to Transit District 4 (#4,5 and 6 train lines) and Transit District 23 (A line) among others and retired September 1986 from the Communications Unit.
He attended John Jay College of Criminal Justice to prepare for the promotional exams. Upon his retirement after 20 years, with the rank of Lieutenant, he went to work as Chief Engineer with Flush-Metal Partition Corp in Maspeth where he worked until 1999. He also worked for various security companies in John F. Kennedy International Airport securing airplanes and gates for airlines and passengers.
He split his time between South Richmond Hill, New York and Cocoa Beach/Cape Canaveral, Florida.
James F. Bond was an active member of many organizations including the Lieutenants Benevolent Association, New York State Fraternal Order of Police, Emerald Society, NYC Transit Police Dinosaurs Club, Long Island Corvair Association, Corvair Society of America, Antique Automobile Association of Brooklyn and was a 3rd Degree Member of the Knights of Columbus, Veterans Corp of the 69th Regiment, and The Valiant Air Command Warbird Museum and the Gateway National Recreation Area Historic Aircraft Restoration Project at Floyd Bennet Field where he volunteered to rebuild military aircraft.
He was a past camp Treasurer and member of the color guard of the Tilden Camp, of the Sons of Union Veterans of the Civil War as he traced his family history through his great grandfather, Seaman William Bond who served during the Civil War on the USS Brooklyn, USS Clara Dolsen, USS Tuscumbia and the USS Eastport.
He enjoyed road trips and visited many historic places and parks around the U.S. Every year he packed up the entire family and drove down to Florida during Easter break.
He was an avid car buff who owned forty-one (41) different cars in his lifetime including his pride and joy a 1964 Chevrolet Corvair Monza Coupe. And the one that got away, his white on white 1959 Chevrolet Corvette Convertible.
He was a congregant at Our Lady Of Perpetual Help. His four children attended grammar school there and he and his late wife provided service hours to renovate the school library during this time.
As of his passing on September 21, 2017 he was pre -deceased by his wife Helen Alice Colvell Bond and is survived by his sister Patricia, daughter Janice Mary, and sons James William, Jay Brian and Jeffrey Scott. And granddaughter Erin Bond and grandsons James Cupertino and Rafael Fernando Bond.
Visiting hours will be Friday, September 29 from 2pm-5pm/ 7pm-9pm at Fox Funeral Home, Inc., 98-07 Ascan Avenue, Forest Hills, NY.
A Mass of Christian burial will be held 9:30 am on Saturday, September 30 at Our Lady of Perpetual Help, 111-50 115th Street, S. Ozone Park, NY. Burial will be in Calvary Cemetery, Woodside on Saturday, September 30 at 11:15 am.
In lieu of flowers donations may be made in James' name to charities that James supported by clicking on the Donations tab on th left side of this page.