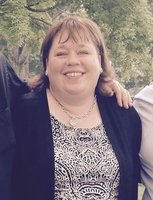 Tiffany Solo
Tiffany Solo, born January 27th, 1966, a resident of Briarwood, NY, passed away on December 7th, 2018 at the age of 52.

To those who knew her, Tiffany was always one to want in their corner, both professionally and as a friend. In all aspects of life, she provided those around her with a base of support, a loving presence, and a sense of commitment that often extended beyond traditional roles. Her sense of kindness, as well as her sense of organization and determination made her an unbelievable person, friend, provider, and above all, an amazing mother.

Tiffany is predeceased by her ex-husband, Eddy, as well as her mother and father, Beverley and Joseph. She leaves behind her son, Matthew, her brothers, Mark and Joseph, many friends, and a life marked by compassion and a love that can only be measured by the numerous people she affected.

A viewing will be held for her on Wednesday, December 12th, between 2pm - 5pm and 7pm - 9pm.

In lieu of flowers, donations may be made in Tiffany's name to City Harvest by clicking on the Donations link at the lower left of this page.