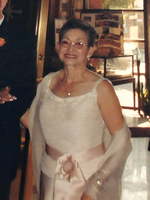 Maria B. Keany
Maria B. Keany
December 16th, 1940 - December 10th 2018.
Maria B. Keany 1519 Fenimore Lane The Villages, FL 32162 died Monday, December 10th 2018 in Douglaston, Queens County, N.Y.
Maria was born in Colombia on December 16th 1940. She was a retired real estate agent and resided in New York for about 40 years and then in Florida for over 10 years. An avid member of the Roman Catholic Church, she helped lead the Colombian Missionaries as their president and member for 22 years to raise money for the poor in Colombia.
She is survived by her husband of 46 years, Francis Keany, whom she married on October 6th, 1972. She is also survived by her son, Mauricio Ulloa and daughter, Audrey Zoumberakis and son-n-law Stelios and daughter Vanessa Wolstein and son-n-law Scott and her 4 grandchildren Yianni, Jaxon, Angelina, and Violet.
Memorial Services will be conducted on Thursday, December 13th at Fox Funeral Home in Forest Hills, N.Y. from 2 to 5 pm and from 7 to 9 pm. The funeral mass will be on Friday, December 14th at 9:30 am at Our Lady Queen Of Martyrs Roman Catholic Church in Forest Hills, N.Y. The burial will follow the funeral mass. Maria will be buried at Mount Saint Mary's Cemetery in Flushing. NY.