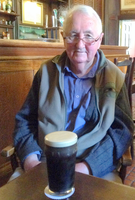 William Heskin
William Heskin (Billy), Loving Husband to Eibhlis (Dickie) FitzGerald, Father of four girls, Kathryn, Elizabeth, Margaret, and Suzanne and their spouses, Dan, John, and Laura. Grandfather to Heather, Lizzie-Bee, Kevin, and Lily. Billy was born in Tuam, Ireland and settled in Kew Gardens, Queens, New York.
Billy Heskin had a life of adventure. As a young man, Billy often rode off alone on his bicycle with canvas, oils, and paint brushes strapped to his bike and cycled out to Connemara to paint the lush scenery that he loved so much. He brought this beauty and reflection with him as he left Ireland. His travels brought him to London where he studied painting at the Royal College of Art and soon found himself in "show business" working as a scenic painter for Shepparton Studios. He worked on films such as: the Guns of Navarone, Gorgo and The Criminal. In a few of those films you can even see him as an extra in the background!
He met the love of his life, Eibhlis FitzGerald (Dickie) upon one of his trips home to Ireland from London. They started a great adventure together traveling around Europe before finally settling down in New York.
After starting a family, Billy acquired a job at Aer Lingus in the cargo division at JFK airport. With the perks of being an airline employee, the family could take advantage of air travel and vacationed all over the world, including Barbados regularly, the Dominican Republic, Africa, Hawaii, and constant trips back and forth to Ireland and the UK.
In his later years Billy enjoyed his retirement with Dickie, watching movies, painting, and traveling back to Ireland each Summer with his daughters and his four grandchildren. Billy is also survived by his sister Kathleen Heskin, brother Joseph Heskin, sister-in-law Maura FitzGerald, Hilary Heskin, Mary Heskin and many nieces and nephews. He will be missed.