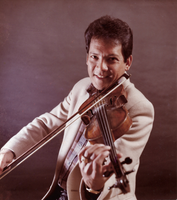 Romulo Jose Florendo
Romy is survived by his wife of 45 years, Andrea, his sons, Johann Giovanni (Soureia), Michael Angelo (Gina), Gian Paulo and three grandchildren Matteo Marques, Sophia Rose, and Santino Gianni; his siblings: Rudy, Francisco and Mae Grace.

In his early career, he earned a medical degree and became a specialist surgeon for Ear, Nose and Throat at the University of the Philippines, and was a Diplomate of the Philippine Board of Otolaryngology. He held several positions at University of the Philippines- Philippine General Hospital: Instructor, Department of Anatomy, ENT Chief Resident, and Chairman of ENT Department. He was a Diplomate in Rhinoplasty and Otoplasty from the Mount Sinai Medical Center, New York; and completed post-graduate courses on facelift procedures from the same institution.

He ran his medical practice in the Philippines for two years before moving to Saudi Arabia as an ENT Specialist and Chairman of the ENT Department for King Fahad Hospital. Upon arriving in America in 1990, he was employed by LaGuardia Hospital and North Shore- Long Island Jewish Hospital in Queens, New York until his retirement in 2014.

From a young age, Romy was gifted with immense musicality. His love of singing started at church as a child and led him to the Julliard School of Music for formal vocal training, where he fine-tuned his vocal prowess. Romy served as a cantor at St. Nicholas of Tolentine Church for more than twenty years​.
​ A self taught violinist, he and his wife (harp) recorded, "​The Enclosed Garden,
​ " a collection of medieval and traditional Marian hymns. It was inspired by the​ Sealed Garden
​ of the ​Song of Songs
​ . This led to joint projects with Andrea on many ​Mary Garden
​ designs, at St. John's University, St. Nicholas of Tolentine church, Immaculate Conception- Passionist Monastery.

A consummate artist and sculptor, Romy was able to apply his talents with Andrea on their beautiful creations of Baroque and Renaissance-inspired icons and altar pieces entitled, "​Mary: The Masterpiece
​ " for the ​National Museum of Catholic Art & History
​ . This collection traveled to local, National and international art exhibits which included London, France, Italy, Greece, Philippines, among others.

Romy will always be remembered as a dedicated and loving husband to his wife, an exemplary role model and inspiration to his children, as well as a kind-hearted Papa for his grandchildren who brought him immense happiness and joy. He lived a humble and simple life, he gave generously, loved sincerely and above all he obeyed and served God faithfully with all of his heart.