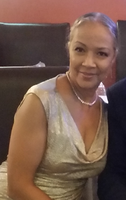 Diana Josephine Tejada
Diana Josephine Tejada
"A Gardener In The Sun"
Diana was born in New York City on September 10, 1958. She passed away in her home in Queens, New York on March 19, 2019.
In her professional life, Diana was a case manager but has been described by colleagues as "the heart of the clinic". With enormous compassion and wisdom, she helped people untie the knots in their lives. She was the problem solver, and the problems could range from loss of benefits to the loss of a loved one. Her greatest strength was her ability to break through the many barriers that we allow to divide us and to connect with people in a deep and healing way. She solved, resolved, comforted and loved.
In her personal life Diana was a loving partner, admired sister, beloved aunt. Her generous heart, kind spirit and comforting words were far-reaching. She touched the lives of all those who knew her. Diana's love and passion for gardening brought her tremendous pride and joy. Few things brought her as much pleasure as a beautiful spring garden. Her lifelong zest for books, history, and literature made her a self-described "gifted conversationalist" (those who know her, know that this is by far an understatement!). One of Diana's greatest loves was for her family's homeland of Puerto Rico where she had the privilege of spending many years of her life and always yearned to return.
Diana is survived by her life partner Carl Francis, her siblings Robert Stephen, Kathryn Louise, Carla Athena and Pierre Noel; her sisters-in-law Maria and Belinda Aijun; her nephew Julian Sky; her nieces Elina Zhou and Laurah Sofia. Her companion animals Valentino, Trinket and Misty were always dear to her heart. Her family is comforted in knowing that she is reunited with her mother Catherine Diaz, her father Luis Guillermo Tejada and her brother David Wayne in heaven.
Diana's brilliance will be greatly missed and forever remembered.
In lieu of flowers her family would appreciate donations to The Latino Commission on AIDS or The Santuario de Animales San Francisco de Asis in Puerto Rico.
Donations may be made to the following charities in Diana's name by clicking on the Donations link on the lower left of this page:
Latino Commission on AIDS-www.latinoaids.org "the Commission realizes its mission by spearheading health advocacy for Latinos, promoting HIV education, developing model prevention programs for high risk communities, and by building capacity and community organizations."
The San Francisco de Asis Animal Sanctuary- "This sanctuary provides shelter, nourishment, affection and proper veterinary care to homeless, abandoned and special needs cats and dogs in Puerto Rico."