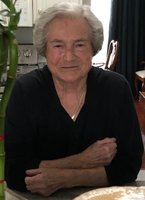 Albina Kajtazi
Albina Kajtazi, 90, wife of the late Nik Kajtazi, passed away Tuesday, March 19, 2019.
Born in Betina, Croatia, she was a daughter of the late Sime and Cvita Balin.
She is survived by her daughter, Albertina Morettin and husband, Peter, of Simpsonville; two sons, Lazar Kajtazi and wife, Ann-Marie, of Lynbrook, NY, and Albert Kajtazi and wife, Christina, of Marlboro, NJ; five grandchildren; and one brother, Jakov Balin of Croatia.
She was preceded in death by a son, Emil Sladic; and a sister, Ljuba Balin.
The funeral mass will be celebrated on Monday, March 25th at 10:30a.m. at Our Lady Queen of Martyrs Church, Forest Hills. Burial will be in the St. John Cemetery in Middle Village, NY.
In lieu of flowers, the family humbly asks that you reach out with appreciation and kindness to a loved one of your own and let them know how much they mean to you.