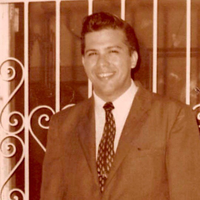 Ivan Edgardo Munoz Cedeno
Ivan Edgardo Munoz Cedeno died Tuesday, April 2, 2019, in Queens, NY, after a long illness. He was 84 years old.
Ivan was born in Panama on October 11, 1934 to his parents Bernardo and Carmen Munoz. During his life Ivan was an entrepreneur, owning his own sandwich shop in New Orleans for several years. He also worked in the hospitality industry for decades.
In his personal life, Ivan was a lover of sports, particularly basketball, where he cheered for the Knicks and Lakers. Food was always the way to his heart, as a good home-cooked meal was one of his favorite simple pleasures.
A good drink, a day at the track, and the music of Celia Cruz, Ruben Blades, Sergio Mendes, and Santana brought a smile to his face and he was an enthusiast of classic American cars.
He could be the life of the party and a flirt, but all in all he was a lover of life and of his family.
He is survived by his three daughters, Carmen Luisa Ruiz (husband Victor), Marielos Munoz-Hamar (husband Øyvin), and Desiree Munoz-Grubb (husband David). He was the proud grandfather of six grandchildren (Victor Jr and Catalina Ruiz, Liv and Espen Hamar, Ivan Munoz, and Nathalia Grubb), and one great-granddaughter (Alannah Ruiz).
His warm heart and caring nature will be missed by his family and friends.
Funeral services will be held Saturday, April 6, at 10:30 AM at Maple Grove Cemetery, 127-15 Kew Gardens Road, Kew Gardens, NY.