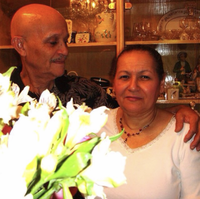 Vistalia Garcia
Vistalia Garcia, aged 77, passed away on April 3, 2019 at home surrounded by her family. She was born on December 20, 1941 in Santiago de Cuba, Cuba to Alvis Calnick and Evaristo "Calunga" Gonzalez and was the second oldest of nine children. She left her family home at the age of ten to work to support her family. She met the love of her life, Heriberto Garcia, at the age of 17 when he serendipitously dropped in on a neighbor asking if anyone had Benadryl. She later wrote him a love letter, which became a lifetime joke between Heriberto and Vistalia, because she got his name wrong and addressed the letter to "Bebe Torres." Heriberto and Vistalia eloped on January 31, 1960. She devoted her life to her family and was a seamstress, nanny, superintendent, and stay at home mom at various different points of her life.
She is survived by her beloved husband of 59 years, her daughters Elaine Rabuyanov and Yadina Amadeo, her granddaughter Julie Amadeo, as well as the many people she touched throughout her life.
Funeral services will be held on Monday, April 8, 2019 at 9:30 am at Our Lady Queen of Martyrs RC Church, 110-06 Queens Boulevard, Forest Hills, NY 11375. Burial will follow at St. John's Cemetary in Middle Village. The family will greet friends from 2 pm to 5 pm and 7 pm to 9 pm at the Fox Funeral Home in Forest Hills on Sunday, April 7, 2019.