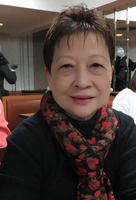 Divina Sanchez Forneas
On Friday, July 26, 2019, Divina Sanchez Forneas, loving wife to Leon B. Forneas, mother to Mariegene, Marilen, Jonathan, Leo Martin and Carolyn and grandmother to Leonard & Isabella Keilen passed away at the age of 73.
She was born in Bauang, La Union, Philippines to Jovencio Sanchez and Carmen Albano Sanchez. She received her teaching degree at Philippine Normal University and her post graduate study at University of Baguio.
Divina had a passion for teaching. She's been teaching since she graduated college. She last taught at PS 140 in the Bronx for more than 20 years where she later retired in 2017.