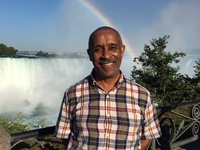 Edward McDowell
Edward Marshall McDowell was born on September 29, 1947, in Gaffney, South Carolina to O. Lee and Christine McDowell. He transitioned peacefully on the morning of August 10, 2019, at the Flushing Hospital in Queens, New York, exactly 44 years to the day of the passing of his father.
Edward (affectionately known as "Eddie" or "Ed") gave his life to Christ at an early age, and was baptized at the Community Baptist Church in Jamaica, NY by the late Rev. Vastor Johnson. There he served as a Junior Usher. After graduating from Jamaica High School, Eddie joined VISTA (Volunteers In Service To America), and spent time in Arizona and Massachusetts. He enlisted in the United States Army, and served in the 101st Airborne Division as a paratrooper/medic. After being honorably discharged, he would later re-enlist in the United States Army Reserve and retired after putting in 20 years. He proudly served in Saudi Arabia during "Desert Storm."
In the early 1970s Ed relocated to Norfolk, Virginia and attended Norfolk State University. While in Norfolk, he met and married Brenda Chamberlain. There he started his own business as a tax preparer. He became a licensed Enrolled Agent with the United States Internal Revenue Service.
In the 1990s, Eddie returned to New York where he continued his tax practice, and worked in the Farmingdale School District as supervisor of the payroll department. He worked in that capacity until his retirement in June 2017. After the death of his first wife, Edward met and married Yonghong Li (affectionately known as "Poeny") of Chengdu, China. For the past 14 years Eddie and Poeny have enjoyed a very happy marriage of love, laughter, and good times.
Over the course of his life, Eddie became a world traveler; a man with an impeccable work ethic, drawn to serve his country and family. He was kind and generous, a perfect gentleman, both a thinker and a doer. He was loved by many, and will be sorely missed.
Edward leaves to cherish his memories his loving wife, Yonghong ("Poeny") of Forest Hills, NY; children, Hongyu Mao (aka "Sonny") and Melanie Taylor; grandchildren, Jessy and Kirsten Jo; great grandchildren, Joseph, Amanda, Elijah, and Leah; mother, Christine McDowell; sisters, Edith Hill, Beverly (Robert) Gibbs, Sylvia Goonetileke, and Denise (George) Sailor; brothers, Keith McDowell, Phillip (Katrina) McDowell, and Dennis (Deanna) McDowell; an aunt, Laura McDowell; goddaughter, Phaedra; and a host of nephews, nieces, cousins, and friends.
Visitation will be Friday August 16, 2019 starting at 9:30am at Fox Funeral Home 9807 Ascan Avenue Forest Hills, N.Y. 11375. Funeral service will be begin at 10:30am. Burial will follow at Long Island National Cemetery. Farmingdale, New York.