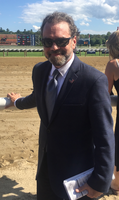 Michael Mancino
On Saturday, August 17, 2019, Michael Mancino of Forest Hills passed away at the age of 53. Michael was born on December 13, 1965 to Frank and Betty (Begley) Mancino. He graduated from Archbishop Molloy High School in 1983 and received his bachelors degree from St. John's University in 1987.
Michael was preceded in death by his father, Frank and his mother Betty. He is survived by his sister, Valerie and hundreds of cousins in the USA and Scotland who will miss him very dearly.
After graduating from St. John's, Michael forged a career in the syndication business at Hearst, King Features and United Media. He helped place comic strips, national columnists and other features in newspapers and on websites across the country. Over the course of his career, Michael had a chance to work with great talents like Scott Adams, the creator of the comic strip, Dilbert, and many others. He was very proud to be part of the KFS family.
Michael was well known in the Forest Hills neighborhood of Queens, where he stayed locally his entire life. He was a fixture at The Irish Cottage, where he held court on his many passions, like The Rolling Stones, The Who, the New York Mets, the New York Jets, Glasgow Celtic and the perfect golf swing, not necessarily in that order. A frequent visitor to his mother's homeland of Scotland, Michael often returned to visit the ever-growing throng of Begley cousins that he loved so much. He also never skipped a Mancino family event whether it be locally in Long Island or even an infamous cousins trip to Italy.
Visitation with family will be held at Fox Funeral Home on Thursday, August 22 from 7:00 p.m. to 9:00 p.m. and Friday August 23 from 2:00 p.m. to 5:00 p.m. and 7:00 p.m. to 9:00 p.m. A mass of Christian burial will be held on Saturday, August 23 at 10:30 a.m. at Our Lady Queen of Martyrs Roman Catholic Church in Forest Hills. A small ceremony will follow at Fresh Pond Crematory. In lieu of flowers, the family encourages donations to support Our Lady Queen of Martyrs Catholic Church in Michael's name