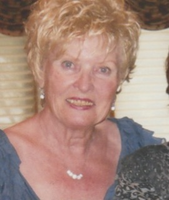 Hildegard M. Schropp
It is always difficult saying goodbye to someone we love and cherish. Family and friends must say goodbye to their beloved Hildegard Schropp (Forest Hills, New York), who passed away at the age of 88, on August 21, 2019. She died at North Shore Hospital after a long battle with cancer.
Hildegard was born on January 15, 1931 in Heidelberg, Germany. She was married to Eugene Schropp for 63 years.
She enjoyed playing cards with her friends and had a passion for life. She loved spending time with her family. We all loved her heartfelt laugh.
She is survived by her spouse, her children Robert and Heidi, her daughter-in-law Grace, and her grandchildren, Kimberly, Amanda, Kelly, Nick and Steven.
Family and friends will gather at Fox Funeral Home in Forest Hills, New York on Sunday, August 25 from 2pm to 4pm and from 7pm to 9pm. A Farewell service will be held at Grace Lutheran Church in Forest Hills at 10:00 am on Monday, August 26.
Interment: Calverton National Cemetery in Calverton, NY
In lieu of flowers the family would appreciate a contribution to Grace Lutheran Church in Hildegard's memory.