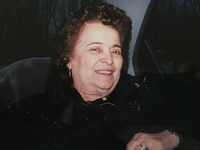 Theresa Bongini
Theresa Bongini, 93, of New York, New York, passed away on Monday, April 27, 2020, at the Grand Nursing Home and Rehab in Whitestone, Queens, New York. Her loving husband, Victor Bongini, predeceased her in 1975. Additionally, she is predeceased by her sister Grace Fitapelli, and brother Joseph Minervo.
Theresa, known as Tessie to her friends and family, is survived by her loving family, including her sister, Victoria (Sandy) Fitapelli, her husband Daniel Fitapelli of Naples, Florida, and her brother Charles Minervo of Hampton Bays, Long Island, New York. Theresa was born on May 29th, 1926. The oldest of five siblings, Theresa was born in New York City, New York, daughter of the late Grace Paccione, and Dominic Minervo. Later in life, she resided in Flushing, Queens, and then later moved with her mother to Brooklyn.
Theresa, known as Aunt Tessie to all her family and friends, was a devoted sister, aunt, and wife—she showered her family with boundless love, always sharing her heart and her kindness with them. Her wonderful nieces and nephews were her life, and she called them "her children," and to all of them, she was always that second mother that they could count on to be there for them in time of need. Her love for her nieces and nephews knew no bounds, and she loved to spoil them with attention, love and memorable vacation trips.
We will miss our beautiful and loving sister, aunt, and great-aunt…she loved her family and being our aunt the most in life. We will always remember your adventurous smile and your unforgettable laugh: the memories with you will always leave a mark in our hearts. We will cherish her memory, and her example of a beautiful, kind, and joyful life well lived. Aunt Tess, our love for you will forever remain.
A family service will be planned after COVID-19 subsides. Fox Funeral Home is assisting the family with arrangements. To share your thoughts and memories of Theresa, please visit her guestbook.