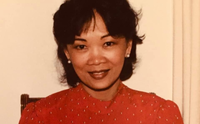 Myrna V. Anolin
Myrna Vergara Anolin was born in Umingan, Pangasinan, Philippines on August 21, 1944. She died peacefully at LIJ Forest Hills Hospital on April 27, 2020 after a series of strokes. She graduated from the University of the Philippines High School, obtained her Accounting degree from the University of the Philippines/Diliman, and earned her Master's degree from Brown University, where she was a part-time lecturer in the 1970s. Myrna was a CPA, and was a highly-respected executive at Seamen's Bank and JP Morgan Chase from 1968 until her retirement in 2006 – one of the few women to rise to the top of the profession during that time.
The loving and generous matriarch of the Anolin clan, Myrna devoted her life to her family, instilling in them the strongest bonds of love and loyalty. Myrna was preceded in death by her parents, former Philippine Consul General Leovigildo Anolin (2006) and Patria Vergara Anolin (2011), and was the beloved oldest sister of Eva Anolin, Lena Anolin Racelis, Edgardo Anolin, Leah Anolin Ewoldt, Nora Anolin Verespie, Daisy Anolin Langley, and Samuel Anolin. She was adored by the families of her many nephews and nieces, large extended family, and many friends and colleagues. Myrna will always be remembered as the life of the party: fun, kind, and incredibly musical with a brilliantly witty sense of humor. She will be greatly missed and forever remembered with love.
Due to the Covid-19 pandemic, services will be announced at a later date. Myrna's remains are planned to be interred in Umingan, next to her parents. In lieu of flowers or gifts, the Anolin Family is requesting that donations be made in Myrna's memory to the Alzheimer's Association.