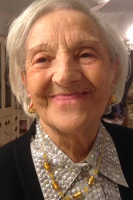 Eva F Arico
Eva Arico of Forest Hills, New York July 19,2020
Eva was born to Jennie and Thomas Devita of Boston, Massachusetts on October 2, 1917.She graduated high school, worked as a seamstress, and was a housewife and mother. She loved to cook, clean, sweep, go to church, and take care of her family. Eva is survived by her brother Joseph, daughter in law Ann, many nieces, nephews, cousins and friends. Eva was predeceased by her husband Vincent, and her two beloved sons Joseph and Robert.
Dear Little Mrs. Eva,
You brought me joy. Our conversations and time together were priceless. I will always remember the time when I recently said early one morning, " Aunt Eva you can't do that, I'll drop you." With your eyes closed and not missing a beat you said, " What am I a ball?"
You were tough and kind, dressed to the nines, a street sweeper,tender and "fresh"; wise beyond education, and simply the best woman I have ever known. We love you, all of you!
"If you knew Eva like I knew Eva, oh,oh,oh what a gal!!"
Donations may be made in Eva's name to Saint Jude's by clicking on the Donations link on the left of this page.