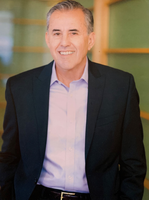 Roberto Llamas
Roberto (Bob) Llamas, Operating Partner of Blackstone
Bob personified the American dream. He was given nothing but achieved everything.
The list of Bob's most impressive achievements pales in comparison to how he achieved them. Bob was born and raised in Southern California by his parents, Lucila Ruvalcaba Macias and Jesus Llamas, who moved to the United States from Jalisco, Mexico. After a disastrous start academically in junior college, followed by three years reading meters, and working on a construction crew, Bob returned to college, with no parental or financial aid or loans, working full time as a janitor while getting both his bachelor's and master's degree, raising his first child and still making the Dean's List.

After graduating with a BS in business from California State Polytechnic University, Bob began his expansive career in human resources, holding HR jobs in various industries, such a s public utilities, electronic manufacturing, aerospace, financial services, healthcare, and marketing. Bob rose to the ranks of Corporate Officer of General Electric, Chief Human Resources Officer of Lehman Brothers Inc., Chief Administrative Officer of Cleveland Clinic and Chief Human Resources and Public Affairs Officer for the Nielsen Company where he had the honor of joining the team at the ringing of the bell at the New York Stock Exchange. Bob went on to serve as Executive Vice President of Human Resources and Community Empowerment at Univision Communications Inc. and finally, Operating Partner at Blackstone. In reflection of his career, he once said, "Throughout my career, I believe that my role in corporate America has allowed me to help make organizations and people better. Personally, it has given me a sense of achievement, financial resources beyond what I have ever imagined, and skills and hope for the future".

Bob served on the board of trustees for several community and education based organizations and was named one of "100 Most Influentials" by Hispanic Business Magazine in 2020 and 2009, and named one of the "Most Powerful/Influential Latinos in Entertainment" by The Imagen Foundation in 2008.

Bob was a dedicated husband and father who treasured his children and embraced every moment with them. He was a remarkable man, intelligent, kind, and with a witty sense of humor. A mentor and friend to many, his most cherished advice was to "start with hard work – no one has invented a substitute for it. Be known as someone who gets at it and gets things done. Raise your hand when new and/or difficult assignments come along. Be at the forefront and know that initiative and merit always matter anytime, anywhere, always". His first and truest love of his life was basketball. He loved everything about it, and his most cherished memories were during his senior year in Colton High School where he was voted the league's Player of the Year and selected to California's All-State, First Team. Bob loved to travel to warm and sunny places with his wife Nancy, and children, Hailee, and Matthew. He particularly enjoyed the quiet sunny days with a margarita in hand watching his beautiful twins happily "attack" the waves.
Bob Llamas passed away on Thursday, December 24th of Mesothelioma as a result of being present at the World Trade Center collapse on September 11, 2001. He is survived by his wife Nancy and their nine year-old children Hailee and Matthew, and his eldest son Scott from a previous marriage.

He will be deeply missed by his family, friends, and all who knew him. His family requests those who wish to express sympathy to consider making a donation to the Mesothelioma Applied Research Foundation as their work in Mesothelioma could help bring awareness to victims of 9/11-related cases during the expected spike over the next decade.