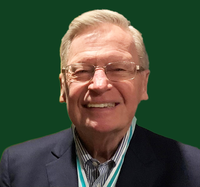 Roger Kail Baumberger
ROGER KAIL BAUMBERGER
Roger Kail Baumberger, 81, of Forest Hills, New York, passed away on January 5, 2021, after a brief illness.
Roger retired in 2018 after a distinguished career in business and investment banking, serving most recently as Senior Managing Director of Private Equity Banking and Chief Operating Officer at the New York venture capital firm, Stern Aegis Ventures. Prior to that, he was a Managing Director at Spencer Trask Ventures, and Founder and Principal of Baumberger Capital. Earlier in his career he had executive positions with Josephthal Lyon and Ross, Inc.; BDO Seidman; Ladenburg, Thalmann and Co, Ltd.; National Westminster Bank; Equitable Life Assurance Society; and Marine Midland Bank, N.A. In these roles, he helped to launch many innovative biotechnology and other businesses and was greatly admired by his colleagues as a mentor and friend.
Roger held a BA from Dartmouth College and an MBA with distinction from the Stern School of Business Administration at New York University. He was also a Chartered Financial Analyst. For many years, he was a Director for the New York University Alumni Association. He was past member of several professional associations, including the New York Society of Security Analysts, the Association for Investment Management and Research, and the New York District Advisory Council for the Small Business Administration. He received the Humanitarian Award from the Long Island Division of the American Cancer Society and a Meritorious Service Award from New York University.
Roger was born in Rutland, Vermont on December 2, 1939, son of Robert and Martha Baumberger, then residing in Castleton where his father was City Manager. He moved with his family to Mill Valley, California; Boulder, Colorado; and Superior, Wisconsin, eventually joining them in Addis Ababa, Ethiopia for a year before he returned to study at Dartmouth College.
Even as he built his career in New York City, Roger lived life to the fullest, enjoying his family and friends. He loved to travel with Anne-Marie Bourbon, his wife of 27 years, both to spend time with her family in France and explore other parts of the world. In 2013, he travelled to Ethiopia, revisiting his early experience as the first American student at the University of Addis Ababa in 1957 while his parents served in the American foreign aid program. He was an avid tennis player and a long-time member of the West Side Tennis Club in Forest Hills.
Roger leaves behind his loving wife, Anne-Marie Bourbon; three children and their spouses, Karen, George, and Alex Baumberger; four grandchildren; and two stepsons, Christopher and Alan Geoghegan, and their spouses. He is also survived by his brother, Bruce Baumberger, and two sisters, Barbara Baumberger Crane and Linda Baumberger Behling.
In lieu of flowers, the family suggests donations to the American Cancer Society or the Melanoma Research Foundation in Roger's memory.