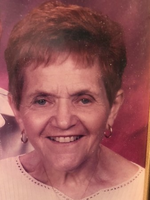 Doris Margiotta
Doris Margiotta, age 92, of 110-20 71st Road, Forest Hills died Friday, January 8th, 2021 at Long Island Jewish Forest Hills of Forest Hills, NY. Mrs. Margiotta was born December 28th 1928 in Brooklyn, NY.
She was employed by Blue Cross Blue Shield. She is survived by her husband Michael Margiotta, daughters Debra & Fern Gaitan, grandsons Samuel & Daniel, daughter Susan Margiotta and grandchildren Jessica, Cindy, Kimberly and Adam as well as great grandchildren Tara & Gabriel.
The Burial will be at Pinelawn Memorial Park and Garden Mausoleums, Farmingdale on Tursday January 14th at 12pm.