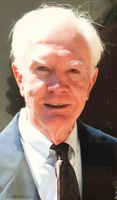 John K. O'Driscoll
John Kevin O'Driscoll died on June 21st, at the age of 92. Kevin was a devoted husband, father, grandfather, and great grandfather. He is survived by his wife Mary of 64 years; and his seven children; Maureen (Al), Kathy (Greg- deceased), John (Maryjo), Margaret (Mick), Nancy (Larry), Mary (Bruce), and Patricia (Stephane). He is also survived by his twenty grandchildren, four great grandchildren (with number five on the way). He is preceded in death by his parents Tim and Margaret, brother Terry, and sister Peggy.
Kevin O'Driscoll is a retired NYC firefighter from Firehouse Ladder 127- Engine 298. He served in the U.S. Navy during the Korean War.
Our dad's actions spoke volumes. He always did the right thing no matter how hard it was. We were truly blessed to have had him in our lives for this long, and he was a tremendous influence on each and every one of us.
In lieu of flowers, you may donate to the Tunnel to Towers Foundation.