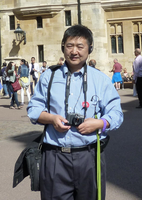 Qiang Tu
REMEMBERING QIANG TU (1962-2021)
QIANG TU, 58 OF FOREST HILLS, QUEENS, NEW YORK, PASSED AWAY ON NOVEMBER 3, 2021, LEAVING BEHIND HIS WIFE ZHIMEI GAO AND HIS SON JAMES TU.
BORN ON NOVEMBER 15, 1962 IN P.R. CHINA, QIANG TU GRADUATED FROM TSING HUA UNIVERSITY, THE MOST FAMOUS UNIVERSITY IN CHINA, WITH HIS B.S. DEGREE IN ENGINEERING PHYSICS IN 1983. THREE YEARS LATER, HE RECEIVED HIS MASTER OF SCIENCE FROM ANHUI INSTITUTE OF OPTICS AND FINE MECHANICS, CHINESE ACADEMY OF SCIENCES. AFTER WORKING IN SHEN ZHEN FOR A FEW YEARS, HE AND HIS WIFE IMMIGRATED TO NEW ZEALAND. THERE, HE RECEIVED HIS POST GRADUATE DIPLOMA IN COMPUTER SCIENCE FROM MASSEY UNIVERSITY. HE AND HIS WIFE THEN IMMIGRATED TO THE UNITED STATES IN 2001 AND THEY HAD THEIR SON JAMES TU IN 2004.
QIANG TU WAS A LOVING HUSBAND AND A CARING FATHER WHO SUPPORTED AND PROTECTED HIS FAMILY WITH ALL HIS HEART. HE WAS A HARD-WORKING I.T. ENGINEER AND ALWAYS WORKED OVERTIME TO SUPPORT HIS FAMILY. DESPITE HIS BUSY LIFE, HE ALWAYS MADE AN EFFORT TO HELP THOSE IN NEED, AND WAS A VERY APPROCHABLE PERSON. HE WAS RELIABLE, RESPONSIBLE, SELFLESS, AND HIS FAMILY LOVED HIM DEARLY. HE WAS THE BEST FATHER AND HUSBAND THAT ANYONE COULD ASK FOR, AND HE WILL BE TRULY MISSED BY ANYBODY WHO KNOWS HIM.