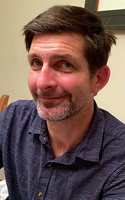 Scott George Harrison
Scott Harrison, 48, of Forest Hills, NY passed away in New York City on December 6, 2021. He was born in Brooklyn, New York, to Irene Harrison and Robert Edward Harrison. Scott was raised on Staten Island, attended Monsignor Farrell High School and graduated from Lehigh University.

Scott was a loving husband to his beautiful wife of 14 years, Heather Harrison. He proposed to her on the Brooklyn Bridge while they were training for a Half Marathon and so began their New York story, which brought them to Forest Hills. He was a devoted father to his 12-year-old daughter, Harper, lovingly chauffeuring her to gymnastics class, helping with homework and school projects, and creating art with her, always ready with a dad joke to make her smile (or cringe), always checking in with her to see how her day was going. Most of all, Scott was a kind, attentive father and husband, adored beyond imagination by Harper and Heather.

Scott was a Licensed Architect and worked as a Project Manager for the City of New York, overseeing the restoration of historic landmarks and buildings. He delighted in design, drawing, constructing extravagant gingerbread houses, making homemade pizza for Heather and Harper, DIY projects, historical tours and cultivating elegant bonsai landscapes. Scott also loved the family dog, Georgia, who brought immeasurable light and joy to their home. A distinctive and reflective observer, Scott found joy and beauty in the small moments and details most take for granted.

He leaves behind his mother, Irene Harrison, whom he lovingly cared for and looked after, his sister Tara Harrison and husband Michael Trombetta, his sister Erin Harrison, seven nieces and nephews (Alice and Buddy, Reed, Audrey and Erica, and Teddy and Jaxson), his mother-in-law, Diane Patton, a large extended family, including his in-laws and many long-time friends. Scott's warmhearted and playful spirit will be deeply missed by his family and friends.

Visiting hours will be held at Fox Funeral Home (9807 Ascan Ave, Forest Hills, NY) on Sunday, December 12, 2021 from 4pm-7pm. A memorial service will be held at Our Lady Queen of Martyrs Roman Catholic Church (110-06 Queens Boulevard, Forest Hills, NY) at 9:30am on Monday, December 13, 2021.

Harper Harrison Fund Information:
If you would like, donations can be made to an account established for the benefit of Harper Harrison. Please make checks out to Charles Schwab and in the re: line write Harper Harrison.
Please mail checks to:

F.L. Putnam Investment Management Co.
20 William Street, Suite G40
Wellesley, MA 02481
Attn: Suzanne Carroll