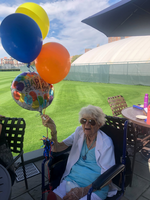 Helen Milione Allen
Helen Milone Allen of Forest Hills, NY Born 10- 8- 1920
Helen was the 7th child of 10. She had four brothers and five sisters.
Helen's father died when she was 5 years old leaving her mother to raise 10 children alone.
Helen grew up on 51 St, Eastside midtown Manhattan.
She was married to John Allen for 60 years. John was Chief Fire Dispatcher for the NYFD and a CPA. They did not have any children.
After graduating from Hunter College in 1941, Helen played for the New York Women's Lacrosse Association for 35 years, competing in national and international tournaments. The former high-scoring right attack was named to the U.S. team every year from 1950-60 and later served as the NYWLA president. Helen began her officiating career in 1945 and has refereed everything from high school games to international tournaments, and spent three years as chairperson of the U.S. Umpiring Committee. Helen has been inducted into the Hunter College Athletic Hall of Fame as a field hockey player, the Metropolitan Lacrosse Hall of Fame, the U.S. Lacrosse Hall of Fame and the Nassau County Field Hockey Coaches Hall of Fame. Helen earned a PHD from Hunter College in education, worked in the Elmont school district teaching physical education and health for 30 years and was an assistant superintendent for 20 years.
In 1948 and 1952 Helen was on the American field hockey team competing in the worldwide competition against other countries.
Helen was an avid golfer, member of The Village of Sands Point and tennis player, member of the historical Westside Tennis Club in Forest Hills for over 30 years.
Her favorite color: Blue
Her favorite flower: Daises
Her favorite thing to collect: tea pots and anything with butterflies on them.
Her favorite comment: "Who said so ".
In lieu of flowers, donations may be made to "Smile Train" and you can donate at
smiletrain.org/donatenow