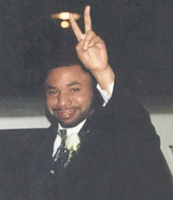 Marc Henry Bazin
Marc (Henry) Bazin, age 55, passed away unexpectedly on July 12, 2022, in Queens, New York. No one could have seen the ending of youth hearted Marc come with such short notice. He will be forever missed by all those that he left behind. A piece of our heart will forever be missing. He was truly one of a kind and to be loved by him unconditionally was a blessing.
Marc was born June 15, 1967, in Haiti, to Violet Legros and Serge Bazin. As Violet's only child, Marc and she shared an unbreakable precious bond. Since a child he was always quiet, loving, sympathetic, and naturally on everyone's good side. There was rarely anyone known to have any issues with Marc as he always had an easygoing nature about him. Violet influenced him to be a genuine, kind, thoughtful, generous, caring, gentle, peaceful and loving individual. He grew up surrounded by a large family, and many friends.
Marc had most of his upbringing in Port-Au-Prince, Haiti. He did some of his schooling in Canada and moved to New York At the age of 10-years old where he completed his post-secondary education. It was also in Haiti he met Rulsy, his childhood sweetheart and wife of 22-years. They married in May/2000, in New York where they both were residing. Marc and Rulsy went on to have one child, Sephora Bazin. Marc and Sephora were inseparable. Every time Marc went to go on his runs, Sephora was either in his arms or the backseat. It was always Marc's responsibility so get Sephora after school and always set aside their Fridays for Spaghetti and Movie night. Weekends were for volleyball and tennis. As time went on Marc's diabetes started to become uncontrollable and other health issues started to arise. This took a huge toll on everyone close to Marc.
Throughout Marc's life he was known to be a comedian, movie fanatic, and world's greatest family man. Family was vitally important to Marc. It was needless to say; Marc loved all the pleasures life had to offer. He had passion for many of his hobbies, his love for comics, superheroes, and movies which started when he was a little boy but stayed with him throughout his adult years. Marc wasn't only cultured when it came to films, his culinary skills and being the handy man around the house were unmatched.
Marc had a long list of friends and an even longer list of people he's made smile with his charisma. Marc excelled and was wonderful at all the roles he has held in his lifetime. His selflessness and generosity were two traits that highlighted his humble personality. He never met a stranger that didn't quickly become a friend. Marc was truly a peacemaker and was always a source of positivity.
Marc was predeceased by his parents, Violet Legros, Marc Henry, and Serge Bazin. He is survived by his wife, Rulsy and daughter, Sephora. His siblings, Reginald, Stanley, Pascale, Harry, Vladimir, Dominique, and Kirsten. As well as Aunts, Uncles, Jean Robert and Louis Legros, Marise Chapoteau, Betty Vaval, Mere Colette, Gladys, and Evelyn along with his cousins, Nieces, Nephews, and numerous friends who were his extended family.
"I have fought the good fight, I have finished the race, I have kept the faith." 2 Timothy 4:7