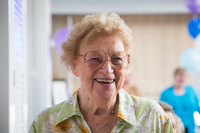 Evelyn Stallone
Evelyn Thorpe Stallone, daughter of Owen and Ida Thorpe, born on August 10, 1923 in Sheffield, England, passed away peacefully today at 98 years old, surrounded by loving family. Evelyn was a loving mother of 6 children, Frank, Robert, Joseph, Marie, Peter, and Deborah; 14 grandchildren; 28 great grandchildren; and 1 great-great grandchild.
Evelyn met the love of her life, Frank, during World War II in Antwerp, Belgium. Evelyn was a member of the Royal Air Force and Frank was a Sergeant in the United States Army, receiving the Purple Heart for his bravery and service. For Frank and Evelyn, it was love at first sight and they instantly knew they were soulmates.
Frank returned to the United States after the war. In the pursuit of love, Evelyn bravely left her family in England, embarking on a journey to the United States by way of the Queen Elizabeth II ocean liner. Evelyn and Frank married on February 23, 1946 in Middle Village, New York and were married for 69 years. Despite being an immigrant to the United States, she established deep roots here: learning Italian cooking from her mother-in-law, developing close ties with Frank's family, and creating long lasting friendships.
Frank and Evelyn raised a family in a home filled with love and good cooking in Middle Village and built a successful family business. In 1967, Evelyn and her family moved to Forest Hills Gardens, where she lived until the end of her life. Evelyn not only started a big family, but kept them together over the years. She was the foundation upon which the family was built and the core person who brought them all together. Evelyn built traditions that held up over decades: from Sunday dinners; painting eggs for Easter; seeing Santa for Christmas—so many memories at Evelyn's house. Her door was always open for family and she always had a plate waiting for you.
Evelyn's marriage with Frank is one that we all strive to replicate. From the day they met, there was a spark that never extinguished during the 69 years they were married. Through all their years together they never lost the romance—a rare find. Her family is happy to know that Frank and Evelyn are reunited and can continue the love that they have always shared.
Evelyn knew life was precious and short so she always lived it to the fullest. She had a youthful spirit, and always enjoyed a good time with good friends. Evelyn enjoyed playing the slots to the wee hours of the night with her friends, Broadway shows, playing cards on the weekends with family, and always looking her best—getting her hair done every week without exception.
Everyone in the family had their own unique, special relationship with Evelyn. With such a big family there are so many different personalities—all of which Evelyn was able to relate to. You could be yourself around her and she loved us all for who we are. With Evelyn there was no judgment—just love.
Evelyn always displayed strength and resilience. She never became bitter, angry or depressed—no matter the hardship. Evelyn always moved forward in a loving way and strived to enjoy life. She appreciated how precious our time here is and lived life her way up until the very end. She will be deeply missed by her family who will carry on her spirit and legacy for generations.
Donations may be made in Evelyn Stallone's name to Saint Jude's Children's Research Hospital by clicking on the Donations link on the left of the page.