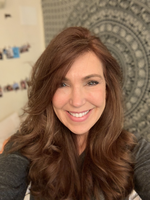 Karen Jayne Chesleigh
Karen Chesleigh, devoted wife, mother, sister, daughter, and friend, passed to the Kingdom of Heaven peacefully on August 1, 2022. She was 55 years old.
She is survived by her husband of 20 years, Christopher, her daughter Kaitlyn, her sister Arlene Tramazzo, brother Anthony Fontana, brothers in law Ronald Tramazzo and Colin Chesleigh, sister-in-law Amy Fontana, nephews Roger Betz Jr., Steven Betz, Mario Fontana, Taylor Tramazzo, and Joseph Fontana, and grandniece Darcey Betz.
She was preceded in death by her parents Barbara Morycz Fontana and Mario Fontana.
Karen was born on March 1, 1967, and was raised in Huntington, NY. She was an active member of St. Paul's Lutheran Church and loved her years participating in youth group as well as the many lifelong friends she made there. She went to Duquesne University in Pittsburg and graduated from their business school.
She met her husband Chris in 1997 and the couple married November 15, 2001. They settled down in Forest Hills, NY where they raised Kaitlyn.
For almost two decades, Karen touched her co-workers lives in profound ways, both personally and professionally. As Senior Vice President of Human Resources at Douglas Elliman, she brought extraordinary empathy, tenderness, and kindness to her day-to-day work.
In addition, Karen, with her husband, opened a cooking school for children called Young Chefs Academy. YCA touched many families in Forest Hills, teaching cooking skills to thousands of children over 13 years. Her ability to teach and relate to children was something to behold.
Karen was accepting of all people and would quickly win them over with her grace. She was known for her beauty, but it was her inner beauty that made her special to all that knew her.
She was inspired by a phrase that she spoke often with her mother:
8 - 3 - 1, eight letters, three words, one meaning: I love You.
She co-created a line of apparel and jewelry based on this numerical code to share its message of love with the world. The One Meaning line allowed her to realize her goal of giving back to charities and causes close to her heart.
Karen bravely fought Hodgkin's lymphoma in her early twenties. She received chemo treatment at the same time as her mother did, and consequently formed a special bond with her mother. That bond and love defined her as the person we all knew her to be. She became focused and driven to be the best in personal relationships, professional career, artistic creativity, and most of all, motherhood.
Her family takes great solace in noting she was born on March 1st (3 – 1) and passed on Aug 1st (8 – 1). Even in death, Karen is sharing the meaning of love in her special code (8 – 3 – 1).
Karen requests a celebration of her life for family and friends:
A celebration of life for Karen will be held on Saturday, August 13, 2022 (8-1-3), 10:30 AM.
Our Lady Queen of Martyrs Church
110-06 Queens Blvd. (Ascan Ave. entrance)
Forest Hills, NY
In Lieu of flowers, which the church does not accept, please consider honoring Karen with a donation to the GoFundMe in support of her daughter's education.